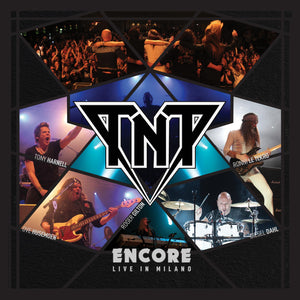 TNT - Encore - Live In Milano - Blu-Ray
GENRE: Rock/Hard Rock
"Encore" is a special live album, recorded during TNT's headlining set at Frontiers Rock Festival in Milan on April 30, 2017. This release is the last live footage of the unique combination of the American singer Tony Harnell with the band's master mind, guitarist Ronni LeTekro.
Tony rejoined TNT in early 2016 after his brief stint with Skid Row. TNT soon signed a recording deal for a studio album with Frontiers and also agreed to a live appearance at the legendary label festival in Milan, Italy.
The band were in fine form and delivered a great set full of classic songs lifted from timeless albums like "Knights Of The New Thunder", "Intuition", "Tell No Tales", and "My Religion".
A fitting testament to a great band and one of the last performances of the band with Harnell on vocals, "Encore" is a release that cannot be missed by fans of the band.
Tracklist
Give Me a Sign (Live)
As Far as the Eye Can See (Live)
She Needs Me (Live)
Desperate Night (Live)
Invisible Noise (Live)
Child's Play (Live)
Ironnic (Live)
Forever Shine On (Live)
Northern Lights (Live)
Tonight I'm Falling (Live)
Intuition (Live)
Seven Seas (Live)
Listen to Your Heart (Live)
10000 Lovers (Live)
Everyone's a Star (Live)
---
We Also Recommend