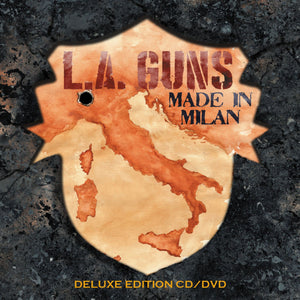 L.A. GUNS - Made In Milan - Blu-Ray
GENRE: Rock/Hard Rock
After more than a decade apart, Tracii Guns and Phil Lewis reunited under the L.A. Guns' banner and in 2017, released arguably the most critically praised album of their catalog, "The Missing Peace". Landing at #12 Top Record Label Independent Current Albums, #17 Top Current Rock Albums, and #47 Top Current Albums on the Billboard charts in the U.S., plus numerous international charts, clearly the most important critics, the fans, agreed with the consensus of how truly great their new studio album is.
With a new found energy and the enthusiasm of the then imminent release of "The Missing Peace", L.A. Guns stormed onto the stage in Milan, IT and took absolutely no prisoners, packing the set front to back with stone cold classics and soon to be classics.
This current incarnation of the band has been touring non-stop and the cohesiveness of the unit, not to mention Phil's stunning and unique vocals and Guns' mind-bending guitar playing, are on full display here. A must hear and listen for all fans of the band, both new and old school!
Tracklist
No Mercy
Electric Gypsy
Killing Machine
Bow Solo/Over The Edge
The Bitch Is Back
Sex Action
Speeed
One More Reason
Kiss My Love Goodbye
Don't Look At Me That Way
Malaria
Never Enough
Jelly Jam
The Ballad Of Jayne
Rip And Tear
---
We Also Recommend