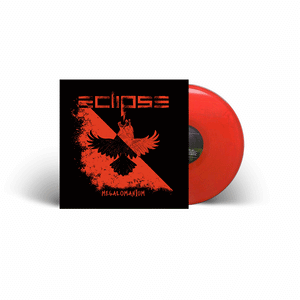 ECLIPSE - Megalomanium - Red LP
If you have pre-order items in your cart, your entire order will ship when all items are ready to ship

STORE EXCLUSIVE!
GENRE: Hard Rock
Eclipse are one of the very few bands who managed to bring their 80's influenced slab of Melodic Hard Rock to the masses. They are now back with the release of their ninth studio album aptly entitled MEGALOMANIUM: a word that well describes the grandiose sound and plans that the band has for their new music.
Coming off their most successful album yet, "Paradigm" (which includes the massive single 'Viva La Victoria' that has almost 25 million streams and counting!), Sweden's Eclipse released their last album "Wired" in late 2020 at the height of the pandemic times. Still, notwtihstanding the lack of touring they managed to continue the path of growth that started when the band appeared at the Melodifestivalen in 2016 with their song "Runaways" 
The new album MEGALOMANIUM offers the joyful, hook-laden and guitar oriented sound of Eclipse at its absolute purest and finest. However the band is not resting on laurels, offering some elements of freshness to a sound which has already gathered legions of fans especially in the European territory. While the first single "The Hardest Part is Losing You" simply shows that the inspiration is intact – truly one of ECLIPSE's best ever anthems! – songs like "Got It!" or the Victor Crusner sung "High Road" show instead that the band is not afraid to take chances into different avenues.
Still they can rock very hard in the anthemic "Children of the Night" with a riff that brings back the memories of the best Dio/Sabbath sound in a contemporary musical dress. Other highlights are the instantly recognizable "Hearts Collide" and the aptly titled "Anthem" which is going to set the crowds enjoying the band's shows on fire. In brief MEGALOMANIUM has absolutely everything that you would expect from the guys from Stockholm and more!
Erik Martensson shows once again why he became one of the most in-demand writers and producers of the scene. His taste in melodies, songwriting and harmonies is absolutely outstanding and when it collides with  Magnus Henriksson guitars, magic is there once again.
The band has massive touring plans with shows and festivals already announced. This record is for ROCK MEGALOMANIACS!
Tracklist
1. The Hardest Part Is Losing You
2. Got It!
3. Anthem
4. Children Of The Night
5. Hearts Collide
6. I Don't Get It
7. The Broken
8. So Long,Farewell, Goodbye
9. High Road
10. One Step Closer To You
11. Forgiven
---
We Also Recommend