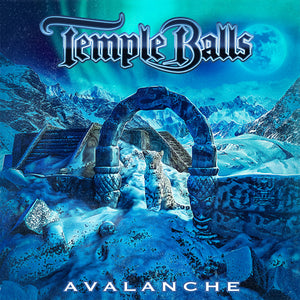 TEMPLE BALLS - Avalanche - CD
THIS PRODUCT WILL BE SHIPPED OUT ON/AROUND NOVEMBER 10th 2023
If you have pre-order items in your cart, your entire order will ship when all items are ready to ship
GENRE: Rock
Temple Balls is an energetic hard rock band from Finland and "Avalanche" is the aptly titled fourth album from the quintet. It's a rocking and energetic tour de force that sees the band members pushing their musical boundaries even further. Once again under the care of producer Jona Tee (H.e.a.t, Crowne, New Horizon), "Avalanche" has all the elements of hooks, powerful rhythms and anthemic rock 'n' roll like it is meant to be played!
Temple Balls came to acclaim after the release of their sophomore album "Untamed" which gave them the chance to tour domestically and internationally in support of such legendary acts such as Sonata Arctica, Queen, Battle Beast, Deep Purple and Uriah Heep. They are definitely one of those acts which once experienced in the live environment, will set your friggin' pants on fire and turn you into a believer!
Their new opus "Avalanche" is a contagious album infecting the listener with strong melodies, profuse guitars, explosive riffs, fun lyrics and choruses that will stick to your mind. From the electrifying opening number "All Night Long" through to the title track, which closes the album, "Avalanche" is a guarantee of timeless fun.
Don't miss the band's live shows planned for the fall of 2023!
Tracklist
1. All Night Long
2. Trap
3. Lonely Stranger
4. Stand Up And Fight
5. Prisoner In Time
6. Strike Like A Cobra
7. No Reason
8. Northern Lion
9. Dead Weight
10. Stone Cold Bones
11. Avalanche
---
We Also Recommend