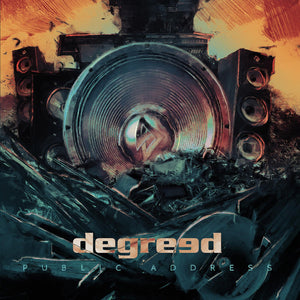 DEGREED - Public Address - CD
If you have pre-order items in your cart, your entire order will ship when all items are ready to ship

GENRE: Hard Rock
Swedish rockers degreed have announced the upcoming release of their seventh studio album, "Public Address" on July 7, 2023. Serving as the follow-up to 2022's stunning "Are You Ready" album, this new opus sees the band delivering on all of the promise of earlier efforts and reaching an absolute premiere moment in their musical creativity. "Public Address" is without a doubt their finest hour and will leave melodic rock loving jaws around the world on the floor. 
"We're stoked to get these songs out for you to hear. I think we've made a massive album in terms of the songs, but also in terms of sound. It's been a few months of hard work, but looking back at it now, while listening to the result, it's been well worth it. I can't wait to hear what you guys think of this one!" says drummer Mats Eriksson.
Due to the COVID-19 pandemic, the band wasn't able to tour on the heels of the release of their 2019 album "Lost Generation", so they set out to begin work on their sixth studio album, "Are You Ready"during the forced downtime. The record showcased a more straightforward and focused direction for the band's sound, while still being extremely melodic and catchy. Indeed, the 2022 album showed that degreed was back stronger than ever. Taking the inspiration from the process of creating their last studio album, the new album, "Public Address" sees degreed delivering hands-down the strongest album of their already impressive recorded output. 
degreed have been releasing critically acclaimed music since the start of their career with their first album "Life, Love, Loss" in 2010. Over the course of their next five studio albums, the band has gone from strength to strength with every release, touring and gaining fans all over the world and they have no plans on stopping now. degreed's sound mixes the classic melodic and hard rock sounds with more contemporary influences offering the fans a very personal, fresh and exciting mix of great rock music.
Tracklist
Big Plans
Who Are You (To Say)
The Way Of The World
This Is Love
Ride Along
Free Again
Resist The Urge
Don't Be A Stranger
A Safe Place
No One
For You
Pressure
---
We Also Recommend