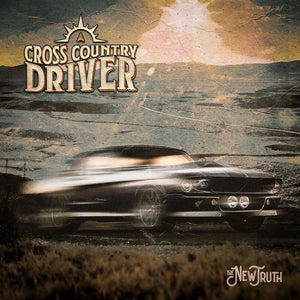 CROSS COUNTRY DRIVER - The New Truth - CD
GENRE: Hard Rock

Frontiers Music Srl is pleased to announce the upcoming release of Cross Country Driver's "The New Truth". Written and performed by Rob Lamothe (Riverdogs), James Harper (Fighting Friday), and Zander Lamothe (Logan Staats Band), "The New Truth" is an old-school-rock rollercoaster of an album. This gutsy, continent-and-generation-spanning musical adventure features inspired performances not only from the aforementioned trio at the core of Cross Country Driver, but by friends such as Mike Mangini (Dream Theater), Greg Chaisson (Badlands), dUg Pinnick (King's X), Rhonda Smith (Jeff Beck), Jimmy Wallace (The Wallflowers), KFigg (Extreme) and more…
Two-and-a-half years in the making, "The New Truth" was mixed by Grammy-award winning musician/mixer/engineer/producer Nick Brophy.
Vivian Campbell (Def Leppard, Last In Line, Riverdogs) joins in on guitar and vocals on  'Risen' and summed up the album best when he said, "Lush, rich, deep and spirited. No one makes records like this anymore. Bravo!"
Rob Lamothe has shared stages with everyone from Guns N' Roses to members of the Toronto Symphony Orchestra. He has toured throughout Europe close to 30 times now. Riverdogs, Rob's Los Angeles-based rock band, reached global cult status three decades ago and found a new generation of listeners after signing with Frontiers Music Srl a couple years ago for the release of the album, "California", which received critical acclaim from media and fans alike.
James Harper has been a mainstay in the New England music scene for over 20 years and is known for his high energy performances and chameleon-like ability to play and write in any style. He has performed thousands of shows with one of Boston's best bands, Fighting Friday, and has written and released countless songs with them, as well as Funk Piranha, The Funeral Puppets and others.
Tracklist 
Wild Child ft. Mike Mangini, Greg Chaisson, & Jimmy Wallace
So Fly ft. Greg Chaisson, Jim Hoke, & Jimmy Wallace
A Man With No Direction ft. dUg Pinnick & Jesse O'Brien
Traces of the Truth ft. Greg Chaisson & Jimmy Wallace
I Won't Look Back ft. dUg Pinnick
Rio Tularosa ft. Mike Mangini & dUg Pinnick
Shine ft. Mike Mangini, Greg Chaisson,  & Jimmy Wallace
Off the Rails ft. Rhonda Smith & Jimmy Wallace
Long Gone ft. Kfigg, Greg Chaisson, Carl Ayotte & Jimmy Wallace
Real Love ft. Mark Hill, Chad Cromwell & Jimmy Wallace
Risen ft. Vivian Campbell & Rhonda Smith
Everything Forgiven ft. Rhonda Smith & Jimmy Wallace
My Goodness ft. Justine Fischer
---
We Also Recommend