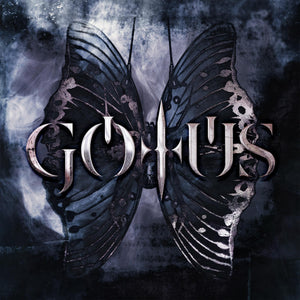 GOTUS - Gotus - CD
THIS PRODUCT WILL SHIP OUT ON/AROUND JAN 19th 2024
If you have pre-order items in your cart, your entire order will ship when all items are ready to ship
GENRE: Hard Rock
GOTUS, a dynamic Swiss band, emerged in 2019 when guitarist Mandy Meyer (known for his remarkable musical journey spanning Cobra, Asia, Katmandü, Gotthard, Krokus, and Unisonic) and drummer Pat Aeby came together to explore a new musical venture. Initially conceived as a live attraction to showcase songs from Meyer's extensive repertoire, the band soon took shape. 
Croatian singer Dino Jelusick was initially recruited for live shows, and the permanent lineup came together with the addition of Tony Castell (formerly of Krokus and Crystal Ball) as the bassist and the exceptionally talented pianist/keyboardist/Hammond player, Alain Guy.
Having previously collaborated, including during the successful Krokus era with albums like "Rock The Block," "Fire & Gasoline," and "Hellraiser," the band regrouped in 2022, even in the face of the pandemic, to perform regularly, including prestigious festivals such as "Guitare en Scene." During this time, the remarkable Ronnie Romero stepped in as the frontman, solidifying the band's lineup and paving the way for them to enter the studio and record an album of original music.
GOTUS' album represents the natural progression for these musicians: heartfelt Hard Rock that pays homage to Meyer's musical history, featuring standout renditions of Katmandü's "When the Rain Comes" and Gotthard's "Reason to Live." It also ventures into new territory with future classics like "Beware of the Fire," "Weekend Warriors," the captivating opener "Take Me to the Mountain," and epic power ballads such as "Without Your Love" and "Children of the Night."
For discerning rock fans, this album is an absolute winner, and catching the band live on stage is an opportunity not to be missed.
Tracklist
1. Take Me to the Mountain
2. Beware of the Fire
3. Love Will Find Its Way
4. Undercover
5. Weekend Warriors
6. Children of the Night
7. When the Rain Comes
8. Without Your Love
9. What Comes Around Goes Around
10. Reason to Live
11. On the Dawn of Tomorrow
---
We Also Recommend