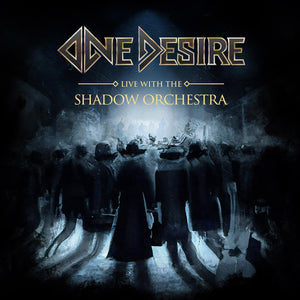 ONE DESIRE - Live With The Shadow Orchestra - CD/DVD
GENRE: Melodic Rock
One Desire is proud to present "Live With The Shadow Orchestra'', a live concert extravaganza featuring the band performing with a symphony orchestra, The Shadow Orchestra (Wasa Sinfonietta), led by conductor Ville Mankkinen. "What makes this whole thing special is that it is rather like watching a movie than watching just a regular live show. We really took the long road with this production," says guitarist Jimmy Westerlund. 
Combining energy, powerful vocals, fantastic guitar solos, and catchy choruses, One Desire is one of Finland's most prominent rock bands. They have released two internationally acclaimed albums, their self-titled debut and follow-up, "Midnight Empire", and performed several European tours. 
Filmed in Vaasa, Elisa Stadium in the summer of 2022, "Live With The Shadow Orchestra" was aired on YLE TV in Finland in late December of the same year and will now be available on CD/DVD, Blu-ray, and Vinyl on April 21, 2023. The audio will also be available on all digital music platforms.
One Desire is currently working on the recording of their upcoming third studio album. 

"Live With The Shadow Orchestra" 

CD
Never Gonna Stop
Apologize
Heroes
Through The Fire
After You're Gone
Rio
This Is Where The Heartbreak Begins
Shadowman
Whenever I'm Dreaming
Hurt
Buried Alive
DVD/Blu-ray
I

ntro
Never Gonna Stop
Apologize
Heroes
Through The Fire
After You're Gone
Rio
This Is Where The Heartbreak Begins
Shadowman
Whenever I'm Dreaming
Hurt
Buried Alive
Down And Dirty (credits)
---
We Also Recommend