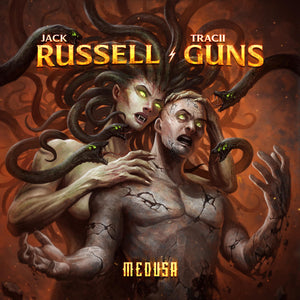 RUSSELL - GUNS - Medusa - CD
THIS PRODUCT WILL SHIP OUT ON/AROUND JAN 12th 2024
If you have pre-order items in your cart, your entire order will ship when all items are ready to ship
GENRE: Metal
Russell / Guns marks the beginning of a fresh artistic partnership between two legendary figures of Los Angeles Hard Rock: Jack Russell and Tracii Guns, accompanied by Johnny Martin, Shane Fitzgibbon and Alexxandro del Vecchio. 
For Jack Russell, this represents a long-awaited return to recording and new music, coming seven years after the release of "He Saw It Coming" with Jack Russell's Great White. Instead of dwelling on the past and attempting to recreate the storied origins of the multi-platinum Hard Rock entity, Jack has embarked on an exciting collaboration with none other than Tracii Guns, an artist experiencing a creative resurgence of his own. 
Jack and Tracii discovered a common thread in a collection of songs that draw from the bluesy power and heavy energy of their most celebrated material and roots, yet infused with a fresh, energetic drive and modern metallic production.
"Medusa" is an album that showcases the artistic integrity and commitment to Rock 'n' Roll from two extraordinary rock stars of the 80s and 90s. 
In 1984, Jack Russell burst onto the scene as the frontman for Great White, a prominent presence in the Los Angeles music scene. The band's self-titled debut, along with platinum-selling albums like 1987's "Once Bitten..." and 1989's "...Twice Shy," sold over 8 million copies worldwide. Their rock legacy continued into the 21st century, and in 2011, Russell went on to form Jack Russell's Great White.
Tracii Guns is a legend in his own right. He founded LA Guns in 1983, which later merged with another group called Hollywood Rose, laying the foundation for one of the true giants of rock: Guns N' Roses. After departing the band and reuniting with former Girl lead vocalist Phil Lewis to reform LA Guns, he signed with Vertigo Records and released 14 studio albums with the band. He also ventured into various side projects, including Contraband (with Michael Schenker and others), Sunbomb (with Michael Sweet of Stryper), and more recently, Blackbird Angels with Todd Kerns (of Slash & The Conspirators).
Ultimately, this new music is a gift to the millions of fans who have steadfastly supported Guns and Russell throughout the years. It's everything they've been waiting for and more.
Tracklist
1. Next In Line
2. Tell Me Why
3. Coming Down
4. Where I Belong
5. For You
6. Give Me The Night
7. Living A Lie
8. In And Out Love
9. Medusa
10. Back Into Your Arms Again
11. I Want You
---
We Also Recommend