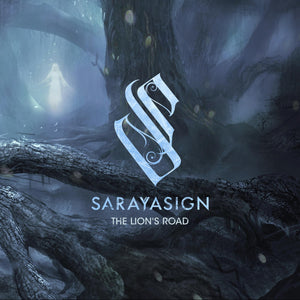 SARAYASIGN - The Lion's Road - CD
If you have pre-order items in your cart, your entire order will ship when all items are ready to ship

GENRE: Hard Rock
SARAYASIGN is a cinematic melodic hard rock band, headquartered in Örebro, Sweden. With guitar driven roots from the late 70's and the cinematic experience of the 21st Century, layered with strings and storytelling driven, melody-focused songs with an edge, the listener will be in for a treat.
Formed in late 2020, with their debut album "Throne Of Gold" released in May 2022, Sarayasign is a concept driven, cinematic, melodic hard rock band that aims for the same experience often felt through films, for they believe that music can propel a narrative and take the listener into unexplored dreamlike and emotional territory. Through the lens and the voice of the storyteller depicted in their lyrics and the atmospheric music and soundscapes of their world called Saraya, created by band member Jesper Lindbergh, Sarayasign wants you to close your eyes and enjoy the journey they will take you on.
"The Lion's Road" is the band's sophomore release, the first for the Frontiers label. The songs, or shall we say stories, on the upcoming album are directly connected to and a continuation of the initial eight stories told on the debut album "Throne Of Gold". Transcending time and space, like a lost treasure in the Swedish melodic hard rock scene, with some of the most outstanding musical visionaries and craftsmen the scene has to offer comes a beautifully crafted trajectory that reaches beyond traditional melodic hard rock. Introducing cinematic soundscapes and with the mesmerizing stories that take place in the land of SARAYA, SARAYASIGN brings something new and fresh to the table.
With stellar guitar riffs and haunting melodies and arrangements from childhood dreams merged with Sarayasign's own twist of cinematic hard rock, the band is able to offer something new that still has strong liaison with the classic sounds. 
Tracklist
When All Lights Go Out
Blood From Stone
A Way Back
The Beginning Of The End
Will You Find Me
Everdying Night
The Lion's Road
Love Will Burn
Hope And The Sorrow
Throne Of Gold Part Ii – A Heartless Melody
---
We Also Recommend