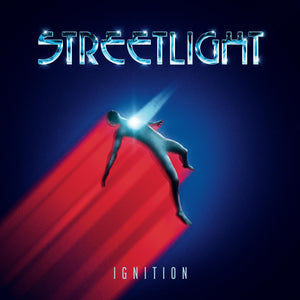 STREETLIGHT - Ignition - CD
If you have pre-order items in your cart, your entire order will ship when all items are ready to ship

GENRE: Melodic Rock
Frontiers Music Srl is pleased to welcome Streetlight to the label family for the release of their new album, "Ignition". An AOR/Melodic Rock band from Jonkoping, Sweden, Streetlight stays true to the genre, delivering distinctive melodies, punchy choruses and strong hooks. Influenced heavily by bands like Journey, Toto, Kansas and Def Leppard, Streetlight creates music that is fun to listen to, melodic and guitar driven, with a sound that reminds you of the times when AOR was at its peak. But Streetlight does not see melodic rock as just a relic from the past. It's more than nostalgia and music for the here and now. 
The band's story began in 2021, when Erik Tilling, a guitar player and good friend of singer Johannes Häger, saw that his childhood heroes Journey were recording a new album. He got this crazy idea to send a demo to the band and subsequently wrote the song 'Overjoyed'. He asked Johannes to sing on the demo, and also to mix the track. Erik was able to get in touch with Journey's vocalist Arnel Pineda, who had only good things to say about the song, though it was not used by the band at the end of the day. 
Erik and Johannes decided to release the track themselves, and also co-write and release a second song, 'Stay' under the band name Streetlight. They started sending the songs to different labels. Several companies expressed interest, but they decided on working with Frontiers Music Srl, not only because Journey is on the same label, but also because, stylistically, Frontiers is a perfect fit for Streetlight's music. Soon after they signed with the label, Erik decided to leave the band, due to lack of availability to dedicate himself fully to the band Streetlight now consists of vocalist and guitarist Johannes, guitarist Filip Stenlund, keyboardist John Svensson, drummer Erik Nilsson, and bassist Johan Tjernström. 
All the members have musical backgrounds as members and/or session  musicians in different bands, including Bullock Hearts, Harmony, Ole  Börud, and Narnia, among others.  
Johannes Häger is the primary songwriter and also recorded and produced Streetlight's debut album "Ignition". A full-time music producer in Sweden, Johannes has been a fan of melodic and hard rock through the years, and spent his teenage years playing in different rock bands in Jakobstad, Finland, where he originally is from. But since that time, he hasn't had the chance to release any music of his own in the genre he loves until now with Streetlight. 
 Tracklist
Hit The Ground
Chutes And Ladders
Stay
Love Riot
Closer
Caught Up In A Dream
Awake
Fire Burnin'
Overjoyed
Words For Mending Hearts
Malibu Pier
---
We Also Recommend