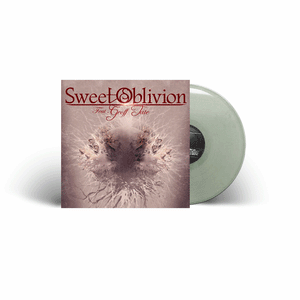 SWEET OBLIVION FEAT GEOFF TATE- Sweet Oblivion - Silver LP
GENRE: Metal
Sweet Oblivion is a new metal project featuring legendary former Queensryche and current Operation: Mindcrime singer Geoff Tate together with a team of skilled Italian  musicians put together by Simone Mularoni, the mastermind behind prog metal masters DGM.
The idea for Sweet Oblivion was to create a musical landscape for Tate which was akin to the sound of the metal albums he released with Queensryche during the 80's, along with some other different musical influences thrown in to sweet the pot. 
Musically, this album offers a collection of songs showcasing the great songwriting and performing talents of Mularoni and his cast of musicians and marks a very welcomed return for Tate to a style that he made famous along with his previous bandmates. 
Fans of Tate's work in Queensryche's early days will not want to miss this!
Tracklist:
True Colors
Sweet Oblivion
Behind Your Eyes
Hide Away
My Last Story
A Recess From My Fate
Transition
Disconnect
The Deceiver
Seek The Light
---
We Also Recommend