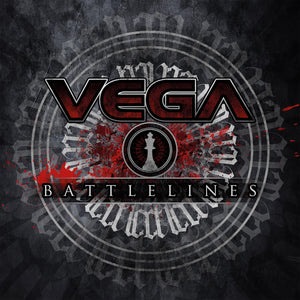 VEGA - Battlelines - CD
If you have pre-order items in your cart, your entire order will ship when all items are ready to ship

GENRE: Hard Rock 
UK rockers VEGA are back with "Battlelines," their eight studio album overall and the culmination of a string of releases which started in 2009 with their debut album "Kiss of Life". The new album, while not a departure from the band's defined and classy sound, shows a band determined, mature, and ready for the next step in their career. It has a crisp sound and immaculate musicianship showcasing the great talents in the band. On the songwriting front, the band have returned with a more muscular sound, but no less full to the brim with melodies that will grab you from the first note to the last.  
"Battlelines" completes a line-up revolution which started already with the previous record "Anarchy and Unity". Exit the Martin brothers, keyboardist James and bassist Tom, enter the new bass player Mart Trail who, together with Billy Taylor (ex-Inglorious) on guitars and Pete Newdeck (Nitrate, Midnite City) on drums (who both debuted on the previous record), singer Nick Workman and guitarist Marcus Thurston gel together in a perfect musical combo that truly brings VEGA to a completely new level.
Vega wear their musical influences on their sleeves: may it be the classic Bon Jovi sound from the late 80's and 90's or Def Leppard, the Birmingham based quintet knows well how to to create melodic rock with a hard edge that's as catchy as hell! Perhaps even a little more hard-hitting than their previous albums but "Battlelines" is still a very well-crafted and entertaining album of their trademark melodic heavy rock.
With pent up energy, a rejuvenated lineup, and a brand new album, VEGA are now firing on all cylinders. With dates penciled in for Autumn it may well be the case of a show not to be missed at all costs!
Tracklist
1. Heros And Zeros
2. Killers
3. Battlelines
4. Love To Hate You
5. Don't Let Them See You Bleed
6. Embrace The Grey
7. 33'S And 45'S
8. Into The Fire
9. Run With Me
10. Not Enough
11. God Save The King
12. Gotta Be You
---
We Also Recommend