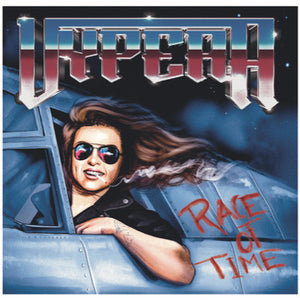 VYPERA - Race Of Time - CD
If you have pre-order items in your cart, your entire order will ship when all items are ready to ship

GENRE: Heavy Metal / Hard Rock
Frontiers Music Srl is thrilled to announce the upcoming release of Swedish hard rock/trad metal worshippers Vypera's second album, "Race Of Time". Vypera is another excellent up-and-coming band from the Swedish rock scene, the gift that keeps on giving. 
Vypera, consisting of lead singer Andreas Wallström, guitarists Christoffer Thelin and Cederick Forsberg, bassist Andreas Andersson, and drummer Johan Pettersson, are hard rockers to the core. Emerging from the fruitful Swedish rock and metal scene, they are yet another high quality musical offering from, arguably, the new center of the rock n' roll universe. Their debut album, 2022's "Eat Your Heart Out", was a headbanging, fist-raising salute to the great '80s metal/hard rock scene whose musical altar the band worships at. 
"...a hard hitting, heavy metal tinged album of hard rock, 'Eat Your Heart Out' is highly melodic and immensely energetic.: - Metal Gods TV
"Eat Your Heart OUt is a great debut sure to stir memories of the days of the aforementioned metal years. Strong vocals, pounding rhythms and fiery guitar work are always a good recipe to follow. Vypera are off to a great start to their career. I'm looking forward to hearing what they have in store for us in the years to come." - Metal-Rules 
"If you like old school Hard Rock with a Metal edge, you need Vypera in your life. If you still need convincing, it shouldn't take much more than 30 second or so of Headbangers Ball-ready rockers like "Standing On The Edge," "Danger" or "Cold As Ice" to make you a believer." - Hard Rock Haven 
Vypera, originally known as Madhouse, formed in Sandviken, Sweden in 2016 and soon set out on crafting original material to reflect the rock 'n roll and metal spirit that burned within the band. They began writing music that they felt traveled on the same good ol' road where their influences like Rainbow, Icon, King Kobra, London, Triumph, W.A.S.P., and the like had originally started. Their musical signature is that aforementioned classic hard rock/metal style played with immense pride...and joy.
Tracklist
Hey You
Riding On The Wind
Mary Jane
Stormwind
Vicious
No Place For A Dreamer
Trying Hard To Run Away
Fool's Game
Speedin'
Daytona
Slave To Love
---
We Also Recommend